about Moore & Co. Event Stylists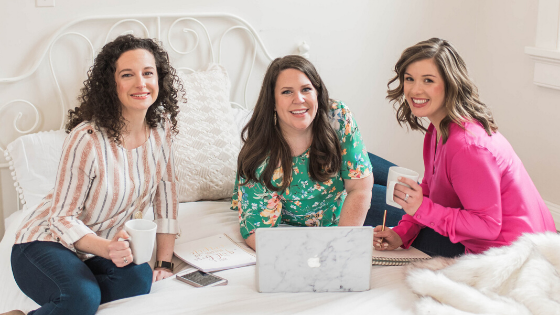 OKAY, LET THE BRAGGING BEGIN.
Located on the oh-so-most-adorable Main street you ever did see in Bel Air, Maryland, lies the Moore & Co. event stylists home base within the Be More Inspired Wedding Studio. You can usually find us spinning around in our office chairs dreaming up ways to perfectly plan your wedding or special occasion.
What sets us apart, you ask? Well, we specialize in taking those sweet, ordinary, possibly quirky characteristics that represent YOU, mix them up with sugar, spice, & everything oh-so-nice and wallah! A perfect reflection of everything that you are mixed with some great food & a packed dance floor with that left-of-center uncle or co-worker who just learned how to dab stealing the show.
Now the moment you've truly been waiting for: look at our pretty headshots!
Meet Our BALTIMORE Event Stylists
Bridget Moore

– Founder
Bridget is the founder of Be More Inspired Wedding Studio and the owner of both Moore & Co. Event Stylists and K&B Bridals. After years of helping family and friends plan their weddings and events, she knew she'd found her passion. She completed her degree in Business Management and Marketing and followed that with a Wedding Planning Certification to build her knowledge of this field. Her love and compassion for people, as well as her driven, dedicated, and hard working attitude are evident to her clients and staff, alike.
Bridget loves…walks with her dog, evenings with close friends sharing a bottle of wine, traveling to new places, relaxing on a beach, summer trips with her family to Newport, snuggling with a warm blanket and her husband on the couch, hot tea, anything sweet, shoes, yummy smelling candles, Pinterest and the Ravens – it's a Baltimore thing.
Courtney Kappus

– Lead Event Stylist & Partner
Courtney joined our team in late 2011, but her heart has been set on event planning since an early age. With her positive attitude and passion for her job, Courtney has managed to go from intern to partner of Moore and Company Event Stylists! Since taking on her new role, Courtney has continued to flourish in the studio, tackling event styling and boss-lady status. Courtney graduated with a Bachelor's Degree in Business Marketing, coursework in Finance (helpful for our budgets!), and a minor in Communications. Her love of travel was sparked when she studied abroad and has only gotten stronger!
Courtney loves… throwing a good party, the color pink, pumpkin anything, traveling, fall & football (Baltimore Ravens, of course!), home-cooked dinners, summer days spent on the water, being surrounded by family and friends, all things that sparkle, hot chocolate by the fire on snowy days, fresh picked strawberries, Kate Spade, city living which includes walks near her home in Fed Hill, and accessorizing – its a girl thing.
Jenn Virts

 – Assistant Planner
For as long as she can remember, Jenn knew she wanted to be a wedding planner. Dreams really do come true! Along with her Wedding Planning Certification, Jenn has a Bachelors Degree in Sociology with a minor in Art and a Masters Degree in Business Management. Although she is the newest member of our team, she has years of experience planning various events including fundraisers, galas and of course, weddings!
Jenn loves…scoring a deal while shopping, photography, traveling to new places, the Baltimore birds, perfecting tiny details and making things pretty, all things girly, game nights with friends, DIY projects (Pinterest is her BFF), spa days, watching a good romantic comedy with a glass of wine, and spending weekends with her family – it's a mom thing.
Moore & Co. Event Stylists
Address
24 South Main St.
Bel Air, Maryland, 21014
Call Us 
410-838-4802
Email Us
info@mooreandcoevents.com